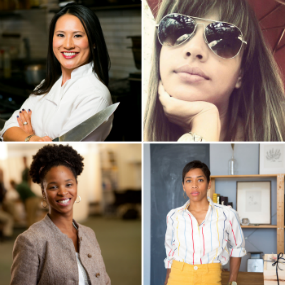 Today's episode is a little different. You'll hear from four previous guests – Kim Vu, Heidy Vaquerano, Dr. DeAnne Davis Brooks, and Jess Puccinelli – who've all had career changes since their original interviews.

Mentioned in the Episode
To get your $1 appetizer or drink (not both) at Không Tên, tell them you heard about the restaurant from Kim's interview on How She Did It.
Music Credit: Lipp Gloss by Podington Bear | Flashback/transition by Minecast_ | Clean Record Scratch by kwahmah_02
Episode Transcript
This conversation has been lightly edited for clarity.
Yolanda Enoch: It's How She Did It. This show where women of color share their often winding and rarely linear career paths. I'm Yolanda Enoch, and the podcast is back after a longer than expected hiatus. On today's show, I'm doing something a little different. If you're a fan of podcasts, your favorite shows have likely done a retrospective episode or replayed some of their favorite episodes recently. Last year I did one and share some of my favorite moments from previous episodes. But this year I thought it would be cool to check back in with previous guests and see what they are up to now. I thought about how we rarely stay at the same job or company for decades. Things change, opportunities are presented, and decisions have to be made. So in today's episode, you're going to hear from four previous guests who have had career changes since our original interview, I'll link up to those original conversations in the show notes at howshedidit.club/15.
Yolanda Enoch: First up is Kim Vu from episode 13.
Kim Vu: My name is Kim Vu. I live and work in Santa Monica, California. I'm the executive chef and owner of Vucacious Catering. We are a midsize catering company, and we cater for both corporate events and private and social events. We do specialize in event-based catering.
Kim Vu: I just opened a brand new restaurant called Không Tên, and it's a whole nother new baby and a whole nother new animal.
Yolanda Enoch: So why?
Kim Vu: Well, from a business standpoint, I really needed to change my liquor license. And buying a restaurant was one way to do that. But also, it was really time to expand the brand in the reach of the company overall,
Yolanda Enoch: I think that we maybe mentioned that you were thinking about a restaurant? Cause there was a time before where you were looking?
Kim Vu: I looked at a lot of restaurants and finally one hit. So it takes a long time for these deals to come to fruition. Basically, after looking for two or three years, we finally found a location that was a good fit. For both our concept, price-wise, location-wise, it finally all came together..
Yolanda Enoch: Okay, so you have a business partner?
Kim Vu: I do. This location has a business partner, Vucacious Catering does not.
Yolanda Enoch: Right. So how did you find your business partner?
Kim Vu: We actually know each other through our kids, Both of our kids are best friends, We've known each other since they were born. They went to the same daycare, preschool together. We've known each other for the last seven years. And we both opened our primary businesses around the same time, so we watched each other grow our businesses in hospitality, And of course every time we got together at family gatherings or birthday parties, we were the two people in the same industry just chatting it up the whole time. After really watching each other for a long time, we had talked about doing a project together. And we started looking about three years ago, and it finally came to fruition.
Yolanda Enoch: Talk to me about that process. How did you know that this was it?
Kim Vu: In hospitality and for business people in general, there's a couple of different ways to approach it. For a lot of chefs, what happens is they will have a very specific concept that they are trying to bring to market. And what they're trying to do is they're trying to find the box to fit that specific concept.
Yolanda Enoch: Was that your case?
Kim Vu: No, that wasn't the case for this location. For me, I've actually worked into so many different concepts. One of the things that I'm really good at and what I do at Vucacious Catering is that I'm really good at ideation. And bringing different concepts and ideas to life. For me, ideating a concept is something I do every day. It's something that's not particularly difficult. Our approach to finding the business really came down to the real estate. You know, the restaurant business can be very difficult to be in, but it really comes down to can you pay your bills? And the biggest bill that you have is the rent. And so it would be very easy to think like, oh, you know, we're in a high traffic area, or we're in a very desirable area, but of course the rents are gonna be higher than that. So what my business partner and I did was that we actually looked at several different properties.
Kim Vu: One of the things that we decided early on was that we weren't going to do a full from-the-ground-up buildout. We weren't going to go into an empty space. We weren't going to go into a change-of-use situation. Change-of-use, what that means is that you can buy a mechanic shop and transform that into a restaurant. Our first key decision was that we wanted to be on the West Side. That's where we both live, So that makes sense for us.
Kim Vu: The second key decision was that we weren't going to do from-the-ground-up buildout. And so what that meant for permitting is that we were going to buy a closed or closing restaurant or a restaurant that was available for sale. We put a few realtors on notice, and then we kept looking ourselves. There's a lot of resource for people who want to open businesses of any kind. There's a lot of resources that you can have access to online. And then in addition to that, we have very good realtors that we worked with. So over the years they kept sending us deals. They kept telling us, you know, business is for sale. And opportunities. And we'd always go look. Calculators out and blazing. We did offer on other places, and for various reasons we walked away from those deals. This particular one became the right fit regarding location, pricing, timing, and also concept.
Kim Vu: So regarding the concept itself, what we usually do is we fit the concept to the space. It's never a good idea to put a square peg into a round hole. For example, we looked at a space in Marina del Rey that would have been perfect as a wine bar. We knew it was going be a wine bar, which meant cheese, charcuterie, American fare, but very easy to eat, very easy to go with wine-bar food. For this particular concept, this was going to be our jewel box – which is why you see it decorated like this – but also the jewel box for the neighborhood. And so we put one of our most special concepts here, which is New Vietnamese cuisine. We are a culmination of our backgrounds, and in my training, you know, I'm French trained chef. My first restaurant I worked in was actually Cajun seafood. There's not a lot of good Cajun food out here, so that might be something interesting as a concept. You know, I'm an Angeleno now, but by way of Texas. And, of course, I miss really pit barbecue. So there's a lot of different things I could do, of course, you know, being from Texas and then moving to Los Angeles, the exposure to Mexican food has always been there. And of course Tex-Mex food, which is not Mexican food, our own Texas version of that.
Kim Vu: But I've worked in so many different concepts and had no ideate so many concepts on the catering side that it's something that I'm comfortable with. So, you know, you look at the neighborhood, you look at what people need and what they want, and you give them what they need and what they want. We're really in a dining desert. There's not really a lot of upscale dining available here. You've gotta go a ways to the East and the West to get any sort of upscale dining whatsoever. Additionally, there's not a lot or any modern Vietnamese food on the west side. Plenty of Pho shops. If you want to know more about Vietnamese food, this is really the only place that you can do it.
Yolanda Enoch: What has been the most challenging part, and it could be either in getting this space ready to open or that you learned or the challenges with starting it?
Kim Vu: Well I would think the first challenge I should mention is our fast turnover. I have an amazing business partner, Don Andes . Once we took possession of the space, we actually turned this place over in 90 days. We opened 90 days later. As you can imagine the way it was in here, with seven contractors stepping all over everything, doing staff training right in the middle all that, I would say that as challenging as that was, it was extremely exhilarating and exciting. When you open with that kind of speed, I think that it's difficult to do everything perfectly the right way, the way you know things should be done. For example in hiring that might be, you know, more than one interview, proper paperwork, background checks, so on and so forth. But when you turn a space over in 90 days, doing everything exactly the right way, the way you know it should be done, is damn near impossible.
Yolanda Enoch: What have you learned about yourself in this process?
Kim Vu: It's just been a wonderful reminder of how much I love this and how exhilarating that it is. This is an area where I have very high competence and of course, in any area that you have high competence that breeds confidence. And so it's been a real pleasure to work on this project.
Yolanda Enoch: If you had to pick two skills if someone was thinking about opening up a restaurant, what must they absolutely have?
Kim Vu: I think that they need to have a strong eye for numbers and analysis. I will say this, which hopefully all of your listeners can appreciate, the purpose of a business is to make money. I did not open a charity. In particular a food business or any hospitality business is a penie's business. A little bit of waste here and there. A little bit of breakage can actually add up to so much every day, every week, every month, and every year. I think that if you do not have the stomach to take a look at the numbers and to make key decisions to increase your numbers where they should be – your top line sales – and decrease your numbers where they should be, then this is not a business for you. The numbers is the number one key.
Kim Vu: The second thing that people really need to have in a hospitality business, is that I think that you really have to have the heart of hospitality. You really have to live to serve other people. And you have to really care and pay attention to that guest experience. And it really stretches, not just food and beverage, but it's a service, the decor, the comfort of the guests, And to be accommodating in a way. I'm always quick to tell any of my servers, or anyone who works for me, we do serve people but we are not servants. And I think that there needs to be a distinction there about how we work and work with our customers. There are very few policies we have here in place that are so set in stone that we couldn't accommodate someone at our business. It's just a matter very clear communication.
Yolanda Enoch: I will link up to your website and all of that. This restaurant is very sexy. It the perfect date place to come to.
Kim Vu: Yolanda would you like a special offer for your listeners?
Yolanda Enoch: Yes!
Kim Vu: Okay, so I know your blog, your podcast called How She Did It? And so if any of your listeners come in and tell us that they heard the program on How She Did It, I would love to offer them either – not both – a $1 appetizer or a $1 drink.
Yolanda Enoch: Next up is Heidy Vaquerano from episode eight.
Heidy Vaquerano: My name is Heidy Vaquerano. I have a law firm called Vaquerano Law. It's myself and my associate. I'm also the Managing Director of Girls in Tech, the Los Angeles chapter. And Girls in Tech is a global nonprofit organization that educates, engages, and empowers women in technology.
Heidy Vaquerano: Well, my life is completely different. In June of last year [2018], I joined a mid-sized law firm called Wolf, Rifkin, Shapiro, Schulman & Rabkin, as senior counsel in their entertainment department. I've been there now about seven months, so it's been a huge transition for myself. I close my practice down after being solo for five years. It was an easy transition from the point of view that I just merged my clients and my practice into theirs. But from a standpoint of a totally new environment of going from working on your own to working with 55 other attorneys, it's a huge life change for me.
Yolanda Enoch: How did this happen?
Heidy Vaquerano: It was sort of serendipitous in the sense that I am friendly with one of the partners there now who is the son of the owner of the law firm. And him and I had represented a mutual client. He did some corporate work while I was representing the client on the IP entertainment side, and we got along really well, and he had reached out to me in early March if I was interested in joining a law firm. It never dawned on me that this would go anywhere. But it turns out that the two other attorneys in my department are people that I've known since I have been working in the industry in 2002. So two lunches later, I accepted the offer, and two weeks after that I started.
Yolanda Enoch: What has been the biggest surprise, because even before you went into private practice, you worked at another law farm. But it was small. So what are the differences? And you know how has what you have needed to evolve into? How is that at this new firm?
Heidy Vaquerano: To be honest, this is the biggest place I've ever worked for. The last place I worked at was seven person all women law firm, and I went to a place like I said, with 55 attorneys. And it's completely different. There is several different layers – aka departments – to everything you're doing. But again, that really is the support system that I have now. When you're on your own, I would have to not only network to bring in a client, I would also have to do the retainer letter, adjust them into my system, do building and stuff like that. Now they're different departments that handle that for me. So having that admin support is life changing for me.
Yolanda Enoch: This is really like your first time really going through like a recruiting process, would you say?
Heidy Vaquerano: And it was not the standard process, but it was definitely a taste of what of that is like. I had two lunches met with other colleagues in the department. Got to know a little bit more about what their needs were. I'm really happy from the perspective that when you're applying for jobs, you usually doubt yourself because you see all the responsibilities and what they're looking for in your like, "oh, do I do that? Can I cover that?" But going into this, I knew that the type of work that they wanted to do was something that had been doing for over a decade. So I knew that I would be able to handle that. For me, it's been more of an education on learning how to work in a larger company and work with other individuals. Collaborating or not collaborating or what it is to learn how to manage those expectations and manage people.
Yolanda Enoch: Where you are now, what is a flat side or something that you want to work on that you think will help you be better in your current role?
Heidy Vaquerano: My biggest thing and my goal for 2019 is to up-level my leadership skills. I'm doing a lot of work on learning what it is to be a leader from the perspective of I'm not necessarily in charge of this department, but I'm still someone in this company who is trying to bring about change and bring in new and innovative ideas. So I'm really working on how to be a compassionate and collaborative leader.
Yolanda Enoch: I like that. Well, Congratulations on getting maybe in a year we discover that the Wolf, Rifkin and in all of that there's an Vaquerano in there somewhere!
Heidy Vaquerano: Let's hope, from your lips to God!
Yolanda Enoch: Next is DeAnne Davis Brooks from episode seven.
DeAnne Davis Brooks: My name is DeAnne Davis Brooks. I am currently an Associate Professor at Salem College for Women. I teach a variety of courses dealing with physical activity, sports, and human movement. That's what I'll do full time professionally. I also am a track coach, I've been coaching track since I was an undergraduate student. I coach a youth track club – the Durham Striders – and we compete for USA Track & Field on the age-group level. And then I also coach at a couple of high schools in Greensboro and Burlington, North Carolina.
DeAnne Davis Brooks: I am still an Assistant Professor, but I changed, and now I am at UNC Greensboro.
Yolanda Enoch: So why did you change?
DeAnne Davis Brooks: I'm just always looking to grow as a professional. I think it came across in my last interview that I loved being a Salem. At UNCG, I have all of those same benefits. The part that's added to that is just resources. At UNCG, we have an awesome Center for Teaching Innovations. They put on workshops that help me to be a better teacher. And these are the types of workshops that people pay a lot of money to attend. And I get it as a benefit of being an employee of UNCG.
Yolanda Enoch: So how did that happen? Did you find an opportunity or did they reach out to you?
DeAnne Davis Brooks: I graduated from UNCG. I went to work outside of UNCG, but I maintained a lot of strong contacts, had several collaborations going on with people at UNCG over the years. The EdD, the degree that I have, is for scholar practitioners. What that meant basically is that I was able to study at a doctoral level a broad subject area. When I graduated and went to teach it small colleges that was a great benefit because instead of having a narrow background in one particular research area,
I had an advanced level of understanding in a number of different subjects.
DeAnne Davis Brooks: Fast forward to last year at UNCG, where they have a number of very accomplished PhDs teaching courses in a department where they're going after grants and doing huge research projects, where they need a person who was able to teach a number of classes in the department to fill in when people go out on research leave. So that's sort of a unique position at the university level at a research type institution in a department where you have a generalist – which is my sort of identity as a kinesiologist – in a department like the one at UNCG.
DeAnne Davis Brooks: So all that to say, when it was time for them to hire the person that would meet the needs in their department, they knew what I had been doing and they knew that I had done that well because of the collaborations and the connections that I had maintained since I graduated as a student. So when the job was posted, a number of my friends in the department just called to tell me that it was there to encourage me to consider it. So I wasn't really looking to leave Salem. I really liked it. But just upon closer reflection, I realized that it will be a good move for me.
Yolanda Enoch: So something that you said was you had maintained the collaboration and the connection with the people there. So what did that look like in practice? What were you doing?
DeAnne Davis Brooks: Over the years, I have collaborated on research projects. So folks there who are PhDs, who are tenure-track-professors, who need to do research as part of their job is to contribute to the knowledge base in our field, so they have to do research. I have a particular skill set and perspective as a researcher and practitioner that would be valuable to those projects, and so I would collaborate with them.
DeAnne Davis Brooks: Over the years, I've been an advisor to several doctoral students. So I served along with my colleagues at UNCG, as like a doctoral dissertation committee member. Over the years, we have an awesome online EdD program that brings in a cohort of 20 doctoral students every year at UNCG. They have a one week residency at the beginning of the program. So over the last several years, I've been a part of sort of the welcoming committee when students come to campus and their getting acclimated to UNCG, I've been on a panel that helps them to understand what they're getting into, helps to introduce them to the program. So things like that I was just was always on and off campus. Those people there were my professional network, and it helped that I still lived in Greensboro the entire time, I worked in Greensboro for four years, and then Salem isn't far away either. So it was easy for me to maintain those contacts in a working way, but it was all so easy for me to get on campus and physically be in their presence.
DeAnne Davis Brooks: So I think all of that worked to my advantage. Plus, along the way, I was also proving that I could do the job at a high level. And when it came time for them to hire a person, of course I went through the same interview process as everybody else, but I still think that just my familiarity helped me to turn out as the top candidates. There wasn't even sort of a written job description that I aspired to, if that makes sense, I didn't know that this is what I wanted until after it was created.
Yolanda Enoch: So what have you learned about yourself?
DeAnne Davis Brooks: I think what I have learned is that my process as a professional has really worked out for me. And that has always been to take opportunities as they come, and to do my very best to work hard and to excel in whatever situation I'm in, with the expectation that the next great opportunity will follow because of my performance. I think one of the other benefits of being in an organization like UNCG is that it's bigger, so there are more opportunities within the university. So if I want to get experience doing something different, if I want to get experience as an administrator eventually, I think I can find those opportunities without having to make a total career change.
Yolanda Enoch: And finally, we have Jess Puccinelli from episode six.
Jess Puccinelli: I am running a business called Haute Hope. It is a socially-conscious gifting studio based out of here in Los Angeles. And what I do is I create gift boxes I make gift boxes using products that give back to a good cause or positively impact the world. And our whole mission is just to make it easy for people to give good.
Yolanda Enoch: I interviewed you in 2017, Haute Hope, you're doing that, it's going great. And then I'm on your email newsletter list and I get this email saying that it's shutting down! What the heck?!?.
Jess Puccinelli: Yeah, I know. It was time. So here's the thing. Things are moving along. They're going fine, but they're not going great. With a product-based business, it takes a lot of capital to make it go. What I started to see – I'm really good at identifying patterns. I'm looking through and the only way this is gonna work is probably through all corporate. But to get that in a flow, and the amount of business we would need to do, it's just going to take a lot. The logistics of it are really tough.
And sidenote, I ended up talking to people who have worked for some of the best gifting companies literally in our country, and it's the same problem for every company. Because you're buying outside product, you're putting it into gift boxes, there's a lot of financial nuances that are hard to predict. Most of them have a really hard time making money. So I was like cool, all right, I'm on it. So, not making much money, and I'm thinking beginning of 2018, I need to make money. Period. Just as a human being like we need dollars. So I end up landing in a marketing role with this company called Everytable, a social good company.
Yolanda Enoch: Yes, I love them!
Jess Puccinelli: They're awesome. It just takes over, there's no capacity for Haute Hope. I would do a job or two here or sell something here and there, but I couldn't keep up with it. But I was like, I'm not supposed to close it yet. And it was still bring in some really interesting opportunities just for me as a person. So I would take those. And I was like, I'll know the moment I'm supposed to close it. Everytable ended up being really taxing and kind of the final straw on my burnout that was probably long overdue.
Jess Puccinelli: Beginning of October of 2018. I left Everytable. And a couple of weeks later, after I'd come down from that ,was just sitting there thinking, okay, well, I could probably pull some stuff together for holiday and just really pushed for holiday, and I started to think about all of it, and I was like, Oh, my heart's not in it, and I'm not going to do this anymore.
Jess Puccinelli: I didn't feel guilty. I just felt okay, it's time, and now I know it's time and I recognize that things run their course, so I'm just gonna make sure that I actually close it. And the reason I say that is because I think we're in a time where people just vacate businesses. They just leave them. They will literally leave an Instagram, like leave an Instagram open and you never knew what happened. Nobody acknowledges to the people who this was built for that this thing doesn't exist anymore. I felt really compelled to close the loop, to thank everyone – but to finish and finish well. I was able to see the effect that it had on people which was really powerful and an unexpected gift. But then also to feel like, okay, cool. This is actually finished. And now I feel free to move on to the next thing or whatever that looks like.
Yolanda Enoch: I know that your husband was really supportive and kind of pushed you to, when you were initially deciding to maybe pursue Haute Hope. I remember we talked about it in your interview where you were like, oh, I'm gonna give myself six months, And he was like, no, you have three months.
Jess Puccinelli: Yeah.
Yolanda Enoch: How was he involved in this process?
Jess Puccinelli: I love that you ask that. So he always asked me a couple of questions if I'm deciding to leave something or do something. He'll asked me, of course, about my motives. And check my motives. Are you doing this because you're afraid, or are you doing this because there's something more and you trust the timing? So we went through that. Hey, listen, if you're going to end something, you need to be in the right state of mind. You can't do it because you're overwhelmed. You have to be at peace before you do it.
Jess Puccinelli: So he checked in about that. I was like, yeah, I'm at peace. And I don't have a desire moving forward. He was like, Okay, then that feels like it works. And he goes – he just looked at me – and says, I hope you know you didn't fail. You've seen this thing all the way through. And you're finishing it and you're finishing it really well. His main thing was, you don't need to look at this as as a pass or failure. And at the same time, I think that there were wins. Obviously there's parts of it that were absolute wins and parts of it that failed, that didn't work. Just on a practical fiscal sense, that didn't make the revenue it needed it to make to sustain itself. So that that was not a win that was fail. And I'm okay with that.
Jess Puccinelli: I think he just trust me and trust my intuition implicitly. And I'm so thankful for that because I'm like, I'm not supposed to be working right now. And he's like, okay, like that's okay. I know you. I know your ethic. I'm behind you. I'll back you. Let's just figure out and strategize on how we're going to do this until you know the next thing hits and the right thing comes about.
Yolanda Enoch: So what have you learned about yourself through starting and stopping Haute Hope? What have you learned?
Jess Puccinelli: That's a good question. I've learned that I'm capable. First of all, I'm really capable, and I'm really tough. Like oh man, I'm really tough. I've learned that my marriage can withstand some hard tensions and hard times. And that is important in that way. And then I've learned not everything has to be a life thing, and that pivoting is okay. And reworking something is okay. I've also learned that when I feel the most alive and I feel the most connected to myself and to others is when I'm leading a team and when I get to pull out these incredible unknown and sometimes known but uncultivated qualities in other people. If I could do that for the rest of my life, I would just be beyond fulfilled.
Yolanda Enoch: You officially shut down Haute Hope in, was that October or November?
Jess Puccinelli: In October.
Yolanda Enoch: Have you figured out what you want to do next or anything of that nature?
Jess Puccinelli: Yeah, I don't have a fully formed thought yet. A couple of things that I realized is that over the course of my career I haven't chosen an industry necessarily. What I'm good at, by trade and what I enjoy doing is marketing and public relations and anything that's like, I don't want to say necessarily storytelling, but I love figuring out how to position a company, strategize around it, and create these moments and experiences for people to feel fully alive in whatever capacity they're touching a business. That's just the best.
Jess Puccinelli: I know that about myself. I left Everytable with this definitive life goal that at some point I will shift what is acceptable for leadership in America. And hopefully like on global level, that we would require more of our leaders, because we have to. Because not only does the bottom line depend on it, but the mental health of the people we work with, and the cultures and the state of our companies depend on it. And so the success of our companies depends on it. I would love to be a CEO of a company and be able to impact the culture from within. But also to really hone in on how a company can impact culture from itself. The industry in which I do is a little bit left to be seen. I leaning towards TV and Film. And that actually comes back to the question asked me about my husband. He's in the industry. And one day he and I were talking, and he was having a moment of like, am I doing the right thing? Is that's where I should be? And I looked at him and was like, dude, we put all of our eggs in this basket. And it was the first time I said we. I usually would say, you put all your eggs in this basket. You gotta keep going. But I said we and I was like, wait, I've never chosen industry. My skills are transferable. There's a total possibility that I can get into this industry and we together can create something, some company, somewhere down the line or even right now that begins to impact culture in a really palatable way. That's sort of what he and I are ruminating on. What I'm trying to figure out. Does that look like going to work for a studio or an agency or something like that? Or does that look more like running something ourselves? Freelancing? I have no idea.
Yolanda Enoch: Love it.